ClassPass: Launched in Singapore in Aug 2018
It's finally here! When I heard of ClassPass launching here, I was quite excited. You know I've been using GuavaPass for close to three years now and the base model of GuavaPass is the ClassPass business model.
If you're not familiar with fitness subscriptions, I'd suggest heading over to my review post here to find out more first. ClassPass also bills as the 'Netflix' of fitness subscriptions – take your pick of classes from its member studios.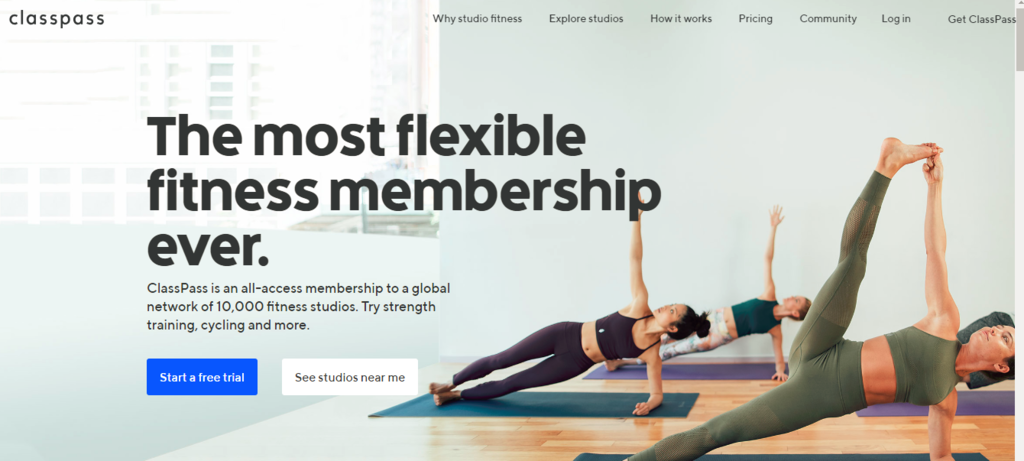 However, before you get excited about ClassPass, these are some important pages you should be familiar with:
ClassPass – A credit system
Compared to its peers, ClassPass uses a credit system – you pay a base rate for credits to book classes.
As of Aug 2018, there are two options:
SGD 50 for 50 credits ( 5 – 8 classes)
SGD 100 for 200 credits (23 – 35 classes)
ClassPass is also running a launch promotion of a week's worth of 50 credits free. It's not a bad deal if you're looking to try out ClassPass.
Dynamic Pricing
Think of it as price surge like Uber, dynamic pricing works on two fronts:
1. User Demand
Think of it as the 3 P's – popularity, premium and peak.
Popularity – E.g. Trending workouts, studios within CBD
Premium equipment or franchised classes – E.g. Reformer machines for pilates classes or Barre classes that are franchised workouts
Peak timing – Evening and weekend classes will cost more
I'll give some examples:
A lunchtime yoga class at Marine Parade: 6 class credits
An evening Barre class at CBD area: 17 class credits
However, bear in mind that pricing is dynamic. The higher the demand, the more class credits it'd cost. A friend booked a boxing class at 9 credits and another friend got it at 14 credits for the same class.
2. Personal Demand
There is no strict limit of 3 visits per studio. Some studios do allow for more visits. However, after three visits, the number of credits required to attend the class will increase.
After the third visit, most studios' minimum class credits seem to go up 1-3 credits more. The below is a more significant case:
1st to 3rd Barre classes: 12 credits
4th class onwards: 19 credits
However, there is also no guarantee that your 1st to 3rd class will remain at the same credits due to the first dynamic pricing rule (e.g. studio got more popular). My friend's first class at a boxing studio cost 9 credits and the same class next week cost 14 credits.
What does dynamic pricing mean for me?
There will always be some ambiguity around class credits which is guided by demand and supply. The class credits also provide some flexibility for studios to price accordingly – for the user, there is some learning curve to max out your classes.
Top up credits
Additional credits are available for purchase at:
Launch

PROMO price only

: SGD 25 for 50 credits
AFTER promo: SGD 150 for 50 credits
Do note only 10 credits allowed to be rolled over each month.
Other fine print to note
Late class cancellations and no-show
Do note their stringent class policies as below
Cancel within 12 hours of class time: SGD15
No-show without cancellation: SGD 20
However, some studios do allow for class bookings well into the final hour. That is, you can still book a 3pm class at 2.15pm.
PRO TIP: You'd notice the popular classes get booked well in advance and often dropped, 12 hours before.
No pause allowed – ClassPass Lite
You can put your subscription on hold for free only if it's more than a month. To keep your subscription active, you're required to maintain your subscription at a nominal fee of SGD 20 for 10 class credits under ClassPass Lite plan.
The good thing is, you can roll 10 class credits to the next month as long as you are on the ClassPass Lite plan.
What happens if you cancel?
Simple – ClassPass charges an administrative fee of SGD 79 to re-activate after you cancel your subscription.
For cancellation of subscriptions, you have to reach out at least 48 hours prior to your next billing, although I'd advise buffering at least 5 working days.
Who is ClassPass for?
If you have favourite studios
Some of the more popular studios, especially with franchised classes, have hopped over to ClassPass. If you're a fan of these studios such as WeBarre, Anthem and Sweatbox Yoga, some studios are exclusively on ClassPass.
Furthermore, you can get to attend these classes as much as you want, you are not limited by the number of visits. Boutique classes are not cheap and can cost up to SGD 35 per class or more.
Using the same example of the Barre class in CBD, even if you get the most expensive class at 19 credits,
10 classes at 19 credits = 190 credits
That's a very good deal at 10 classes per month for SGD 100 which would typically cost you SGD 350 per month. HOWEVER, the challenge would be being able to book that many classes without surge pricing + you must be an awesome camper to be able to book that many classes.
Let's say you're someone who visits different studios and mixes up your workouts but you go for popular evening classes at CBD locations (priced at 10 credits), you still get 20 classes out of 200 credits per month.
At this point, the main differentiation between fitness subscriptions has got to be the studios listed.
Your schedule is quite fixed
If you can plan ahead and your plans do not change (bearing in mind 12-hour cancellation) OR you don't mind attending whatever class is available at the very last minute (since you can book up to the final hour), ClassPass is good if you have minimal changes in your schedules.
Then again, the more popular classes get snapped very early on, we're talking about a week in advance. Coupled with the 12-hour minimum cancellation fee, it means that you got to plan your week around your workouts – no spontaneous dinner dates here!
Your travel often to popular cities
ClassPass is available in over 50 cities and due to its class credits system, you can book classes in any city ClassPass is in.
You fall into the middle gap
The good thing about ClassPass is that it offers a middle option for the person who does casual workouts. The $50 for 50 class credits is good for someone who works out once a week.
You don't work out in popular spots or peak timing
If you're able to attend classes out of peak periods or popular timing, ClassPass would work best for you.
For me
While it may seems that popular and trendy studios are on ClassPass, booking a class may not be that easy. Class slots get snapped up a week earlier and you have to camp on the app to book the most popular classses.
I'm not a fan of having to wreck my brains over surge pricing. I'd still like to give ClassPass a shot – but maybe after the initial hype when the launch promotion memberships finish for a more accurate representation of how surge pricing works.
Check back here in October for an update!