A Better Florist Flower Arrangement Class
Flower arrangement classes are a dime and dozen. To make the most out of your buck, head over to A Better Florist for a wallet-friendly flower arrangement class where you get to bring the beautiful flowers home too! You learn the art and you bring the art home.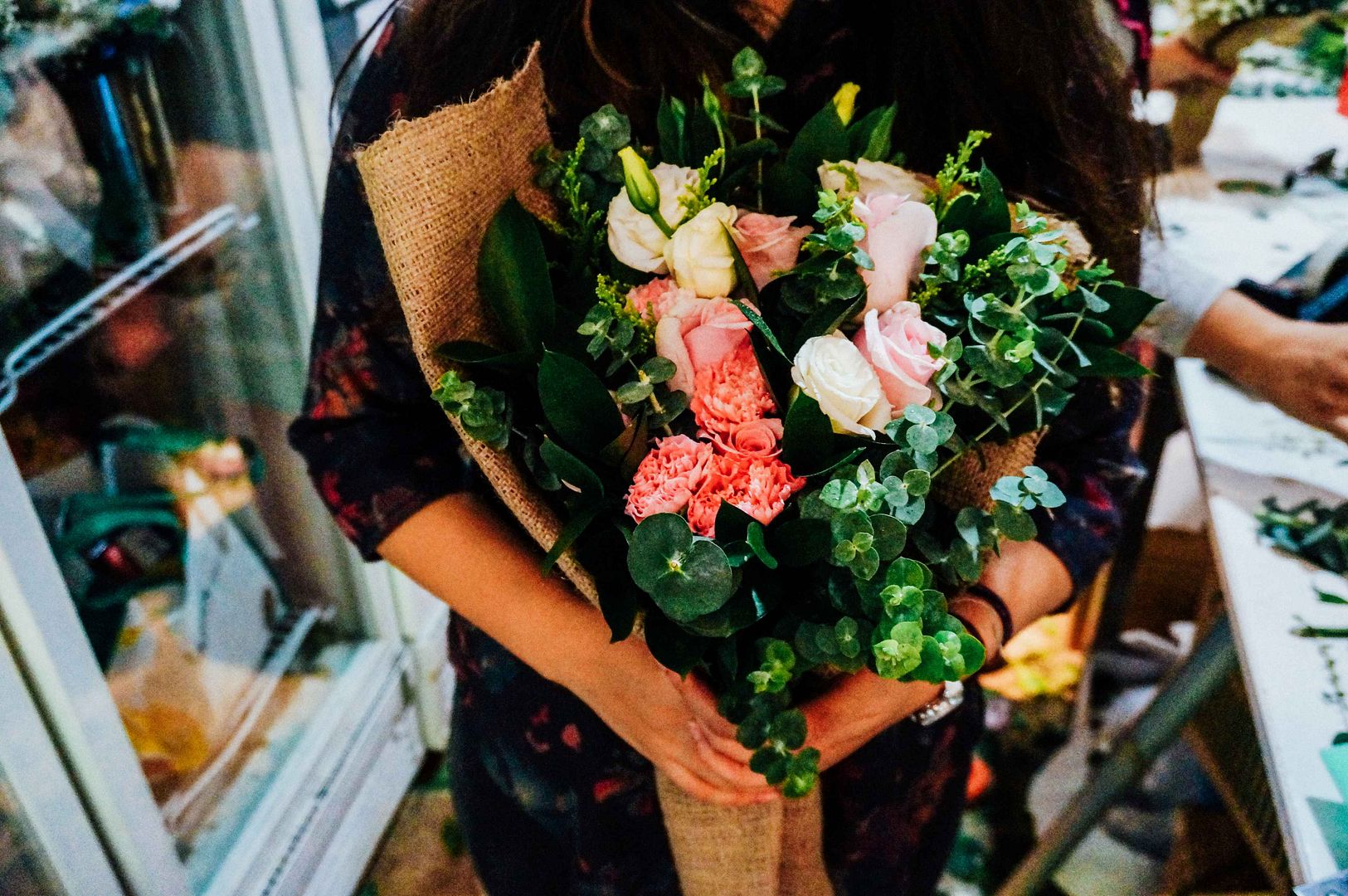 The art of arrangement
From de-thorning roses to wrapping your bouquets, the workshop was an eye opener for first-timers like us. We got our hands "dirty" and worked with different flowers and fillers to create a beautiful half-round bouquet. This was the end product of our intensive 2-hour flower arrangement crash course: a rustic bouquet wrapped in burlap.
A Better Florist stocks its flowers from a Cameron Highlands farm that grows a variety of florals found globally. Some of the different flowers and fillers we worked with during this class included roses, carnations, baby's breath, eucalyptus and ruscus. This was our workstation halfway through our class.
The workshop space
The 15pax class was a little squeezy for the cosy studio which would have fitted 8 pax more comfortably. Our class was split into two groups with 10 gathering at a long table, while the remaining students worked at a smaller table.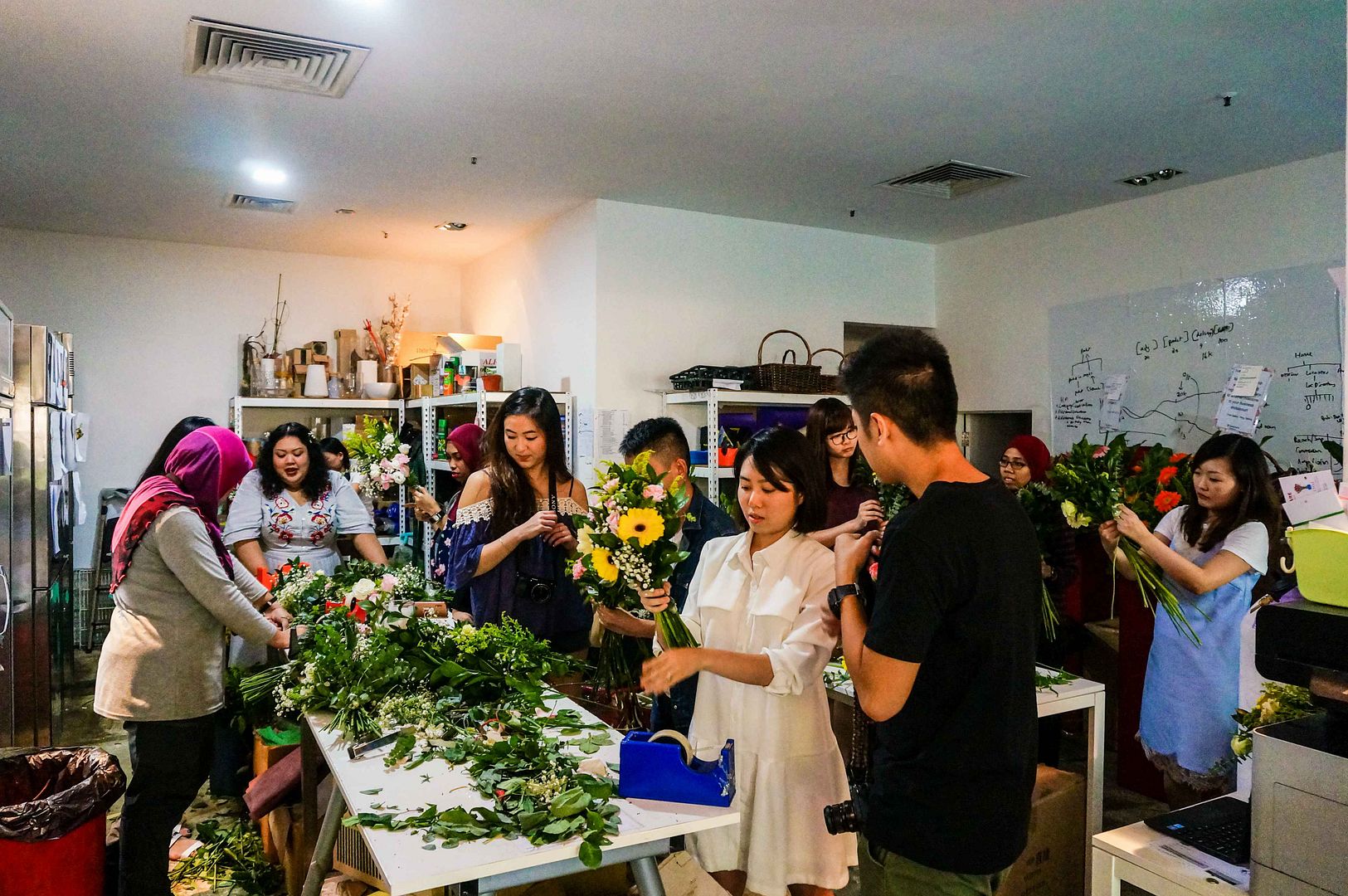 The class experience was enjoyable and the class went well. The instructor, Elijah, was extremely friendly and very willing to guide students in the class. Despite the large class size, he took time to stop at each student's work area and patiently gave feedback on the different types of fillers and flowers students should be adding to create a half-round bouquet.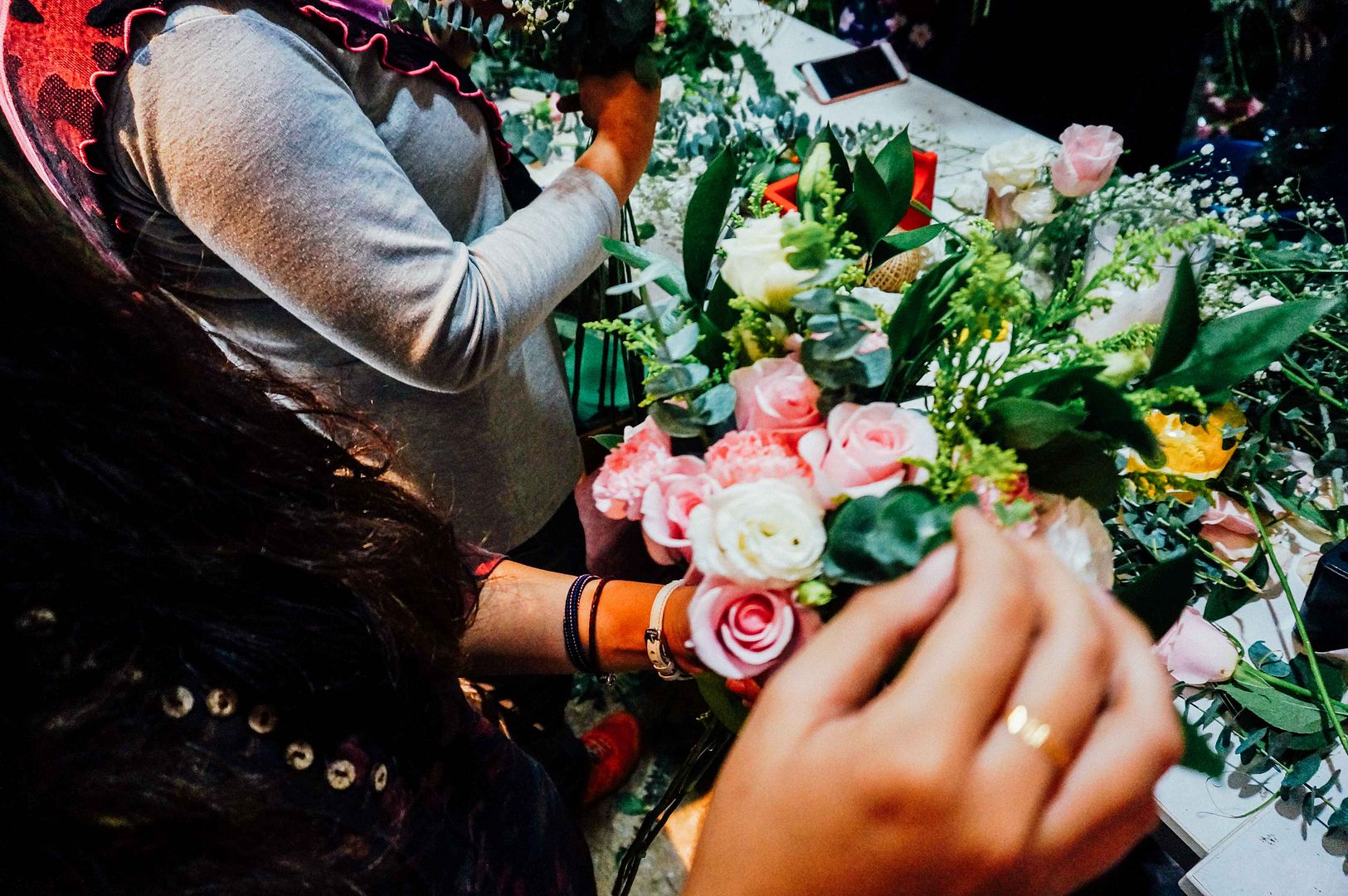 The prices offered by A Better Florist remain one of the most affordable at $30 (for early birds) to $40 (for regular tickets) per floral arrangement class. Classes are conducted an average of two to three classes monthly, on late Saturday afternoons.
Things to note before you head for a class
On the night before the class, we were notified via email of a change in class timing. Do remember to check your emails the night before your class so that you don't miss any updates!
We got a little lost searching for the studio and was late, the class had not started as the instructor had yet to arrive. Although this really isn't an excuse for a participant to be late, do check out directions to A Better Florist ahead of the class.
How to book a class
Check out their Eventbrite or Facebook page for more information on their upcoming workshops.
A Better Florist is also an online floral shop (aka e-commerce) that offers same-day delivery of fresh flowers and even, fruit hampers, island-wide in Singapore. They have bouquets at a variety of price points ranging for a more affordable bouquet that is perfect for any "just because" occasion to more luxury florals suitable for proposals. Alternatively, customise a personal bouquet!
| | |
| --- | --- |
| Shop | A Better Florist |
| Address | 11 Keng Cheow Street, #01-02 Riverside Piazza, Singapore 059608 |
| Opening hours | 9am – 6.30pm |
| How to get there | Nearest train station: Clarke Quay |
| Google Map | A Better Florist |
Disclosure
This post was done in collaboration with A Better Florist, brought to you by guest writers, Gabbie Teo and Shiyun.