Karneval at Brotzeit
This is an invited media tasting, opinions are mine. Photos by the talented Roger of Camistry Lab.
The pre-Lent observance period, Karneval, is often unofficially known as the fifth season in Germany. A traditional festival, Karneval, as its name sounds, is a festive carnival parade celebrated the true German way – food, beer and lots of merry.
Since I am a plane ride away from Karneval in Germany, the next best thing is to try the Karneval menu in Brotzeit. This exclusive menu is available only from 16 January to 25 February 2018 at Brotzeit outlets in Singapore.
If you have meat-loving and beer-chugging friends, this is a great menu to try out with groups of friends, best to go in more than threes.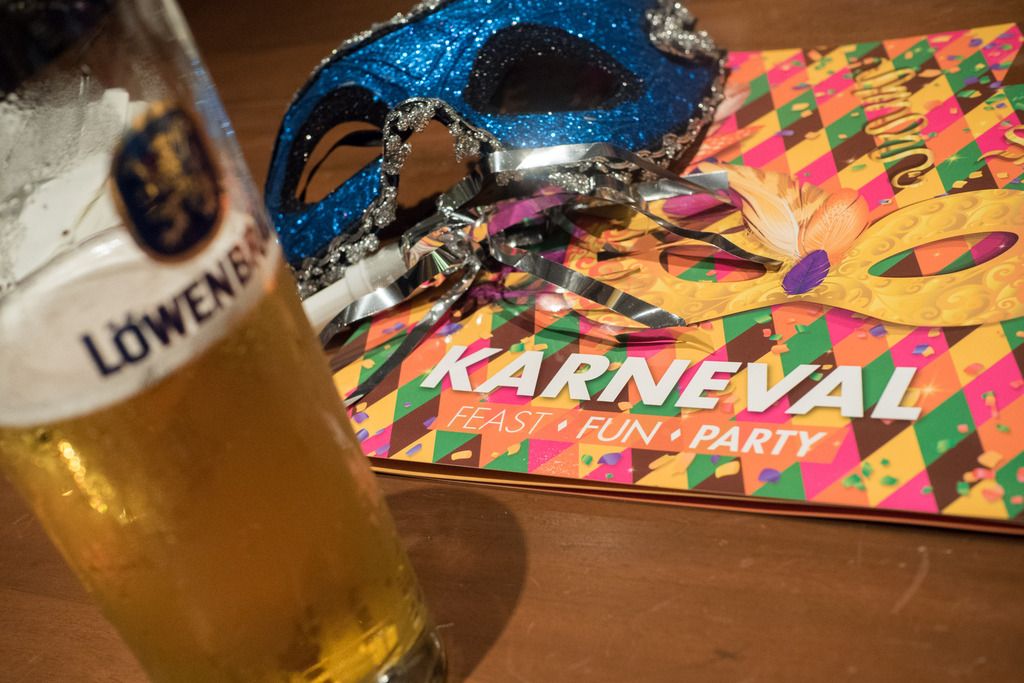 As Group Chef Wolfgang Ranner introduced the food to us, he emphasized that Karneval is a season of making merry and sharing food with friends and loved ones.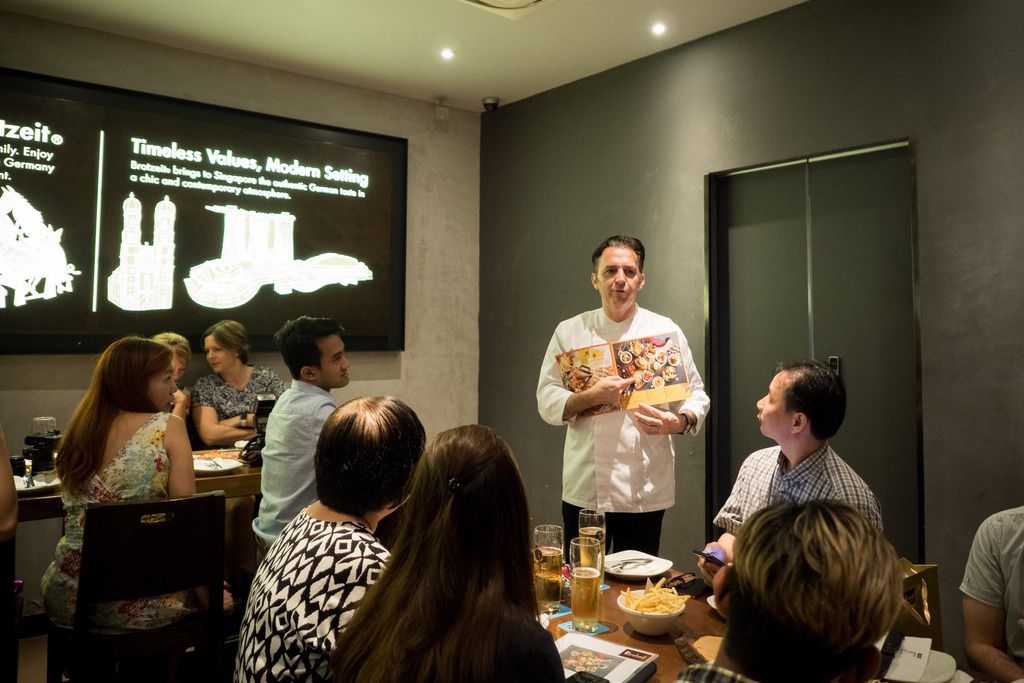 In that same spirit of sharing with friends, Brotzeit will be introducing a food challenge, 'We Dare You! Brotzeit Challenge'  If a pair of friends finishes the half-metre Brotzeit's Deutsche Halbmeter Wurst (SGD29) within four minutes, the sausage is on the house.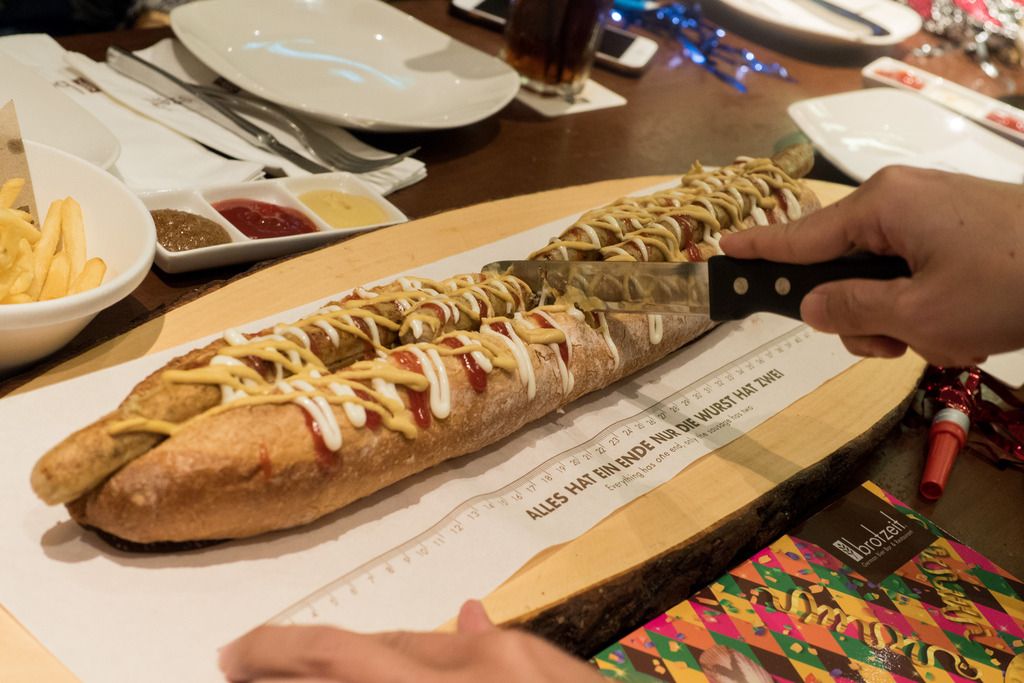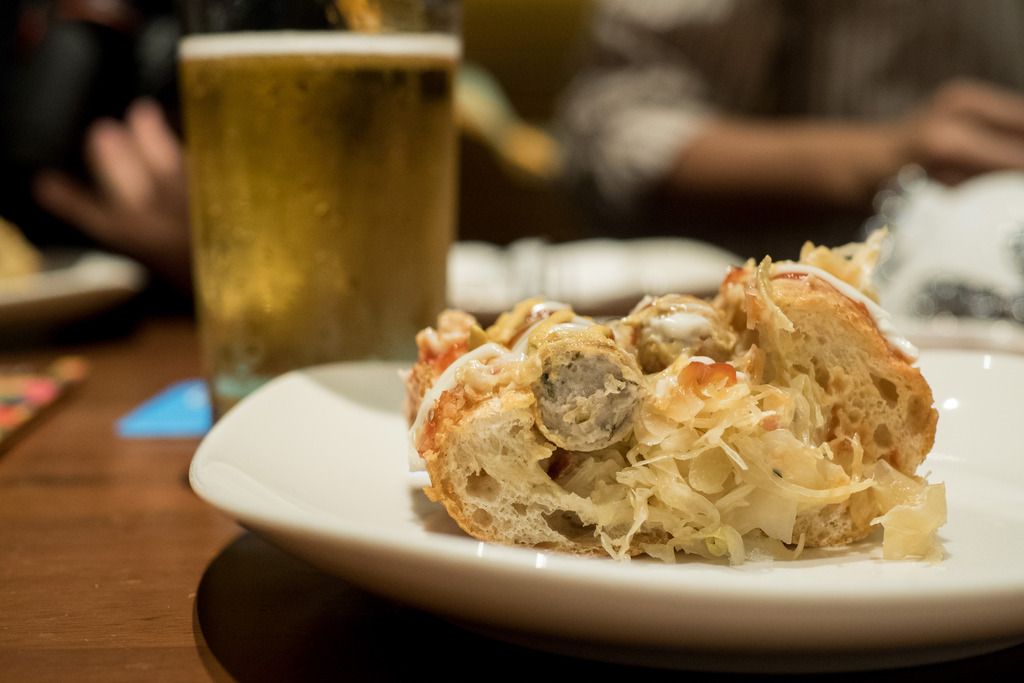 This sausage is about the length of an adult's forearm.
Half of the baguette is served with sauerkraut and other with potato salad. Personally, I liked the sauerkraut as it whets your appetite although Roger preferred the potato salad for its balanced taste.
Even if you're not attempting the challenge, the Halbmeter Wurst is a good dish to share with friends, especially if you're the type who can't do without carbs.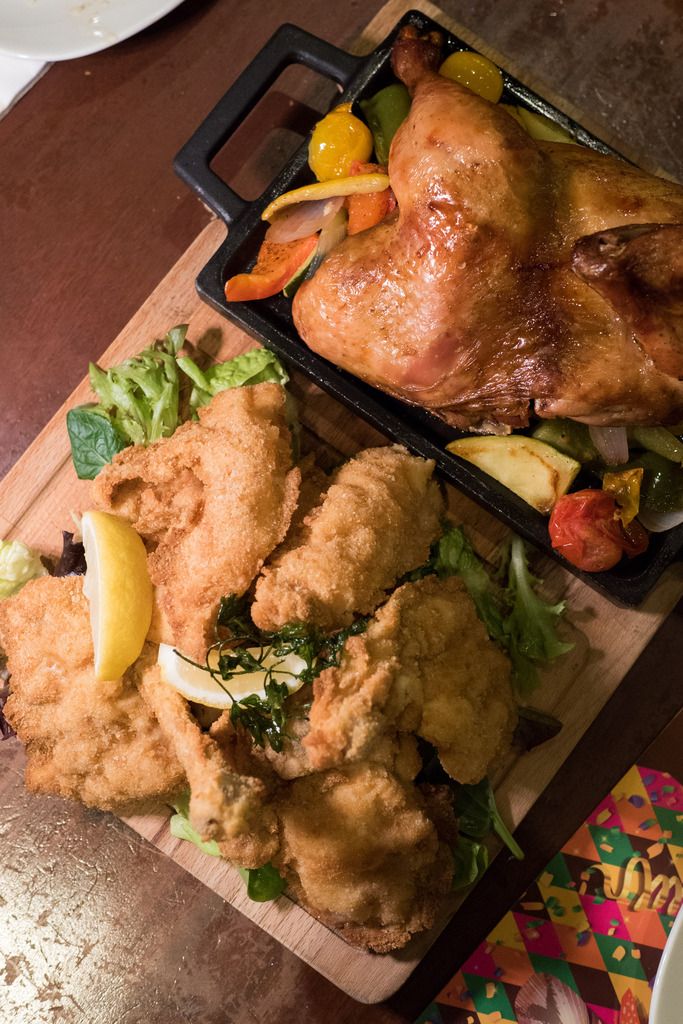 Along the theme of sharing, the Duo of Chicken (SGD40) is a combo of half an oven-roasted and half a golden fried chicken with fries and potato salad served on the side.
You know how you can never agree with friends which to order – the fried chicken or the roasted one? This dish will solve the problem and save your friendship.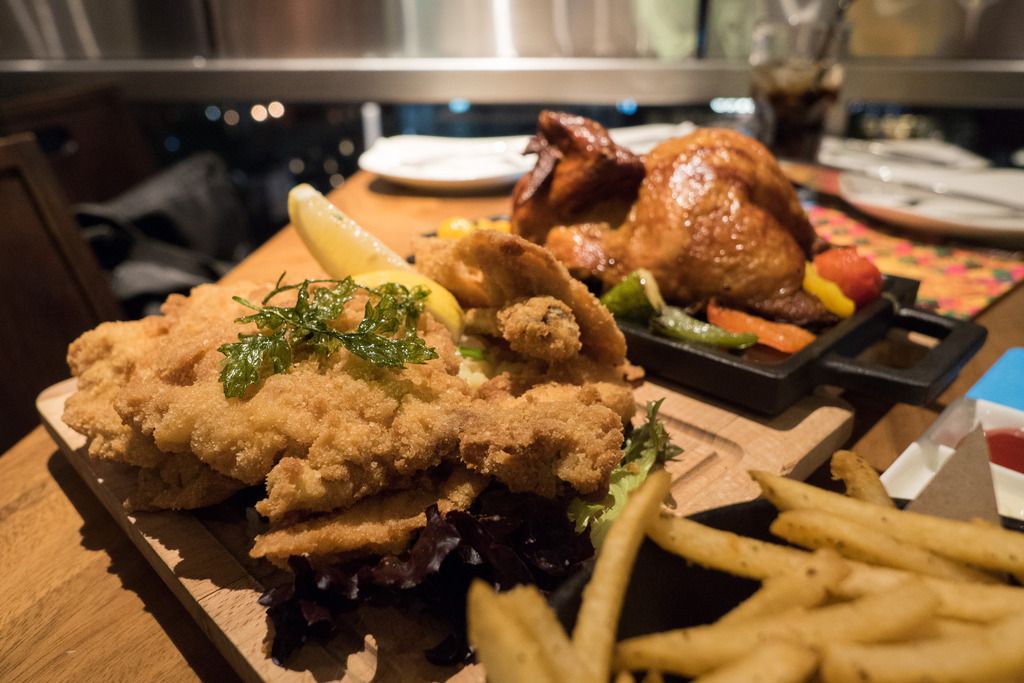 The oven-roasted chicken was the clear winner for me. The meat was tender and juicy with flavour permeating the entire chicken.
The crispy chicken is best eaten immediately. It had a thicker breading batter, hence, eat quick or risk the batter becoming soggy.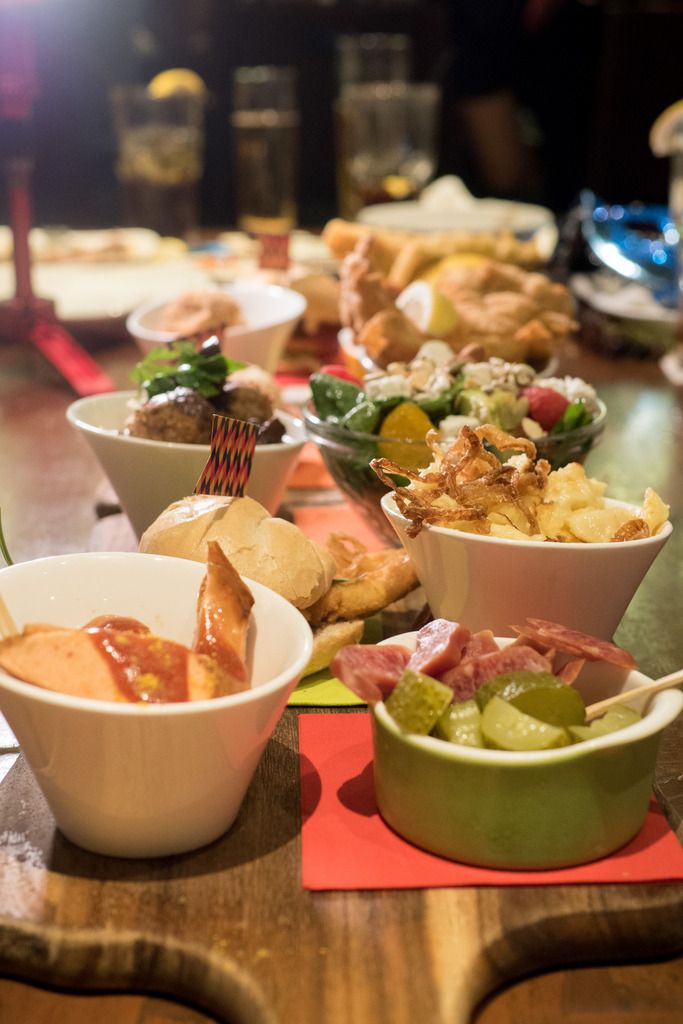 The last dish that I tried was the platter of German tapas which is a combination of old-time favourites and new dishes. The twelve items available are Bierbeisser, super food salad, spicy chicken sausages, currywurst, golden fried chicken, cheese spätzle, meatballs, seabass filet, fried mushrooms, mini Kaiser rolls with meatloaf, chicken schnitzel and meat patties.
Chef Wolfgang mentioned that his favourite was the meatloaf – a dish that brings him fond memories of the cold winters in Germany. He mentioned that customers often come back to taste this item.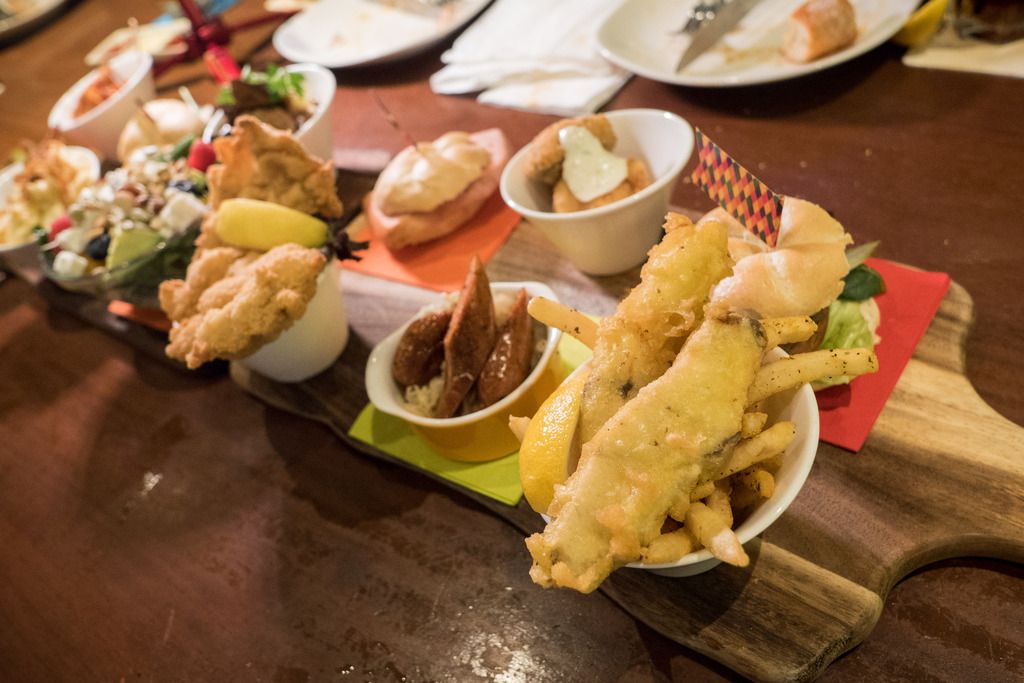 Sadly, I cannot give a comprehensive review of the platter as I did not manage to taste every item.
The good thing is you can pick and mix your favourite tapas, at the following prices:
Three for SGD15
Six for SGD28
12 for SGD45
If I have to make up a platter of six, I would go for Bierbeisser, super food salad, spicy chicken sausages, currywurst, cheese spätzle, meatballs.
My favourite items were:
Cheese Spatzle: a lighter version of Mac & Cheese which does not leave you feeling full. Each bite is coated with sauce, very shiok!
Meatballs: Comes with a buttery mash (which is hard to find) and well-marinated meat, very flavourful! When you have a bit of the meatball and mash together, the combination of textures go well together.
Superfood salad: Is a nice break from all the meat
Suggested menu for groups of four
Go for the half-metre sausage dog and platter of six or 12 tapas depending on how hungry you are!
Wash down the meal with Gaffel Kolsch beer (one bottle at $10, a bucket of five at $48 and 5-litre party keg at $98) which is available only during the Karneval menu.
If you're more of a coffee person, the Berliner (texture is like a doughnut stuffed with chocolate) is served free with coffee.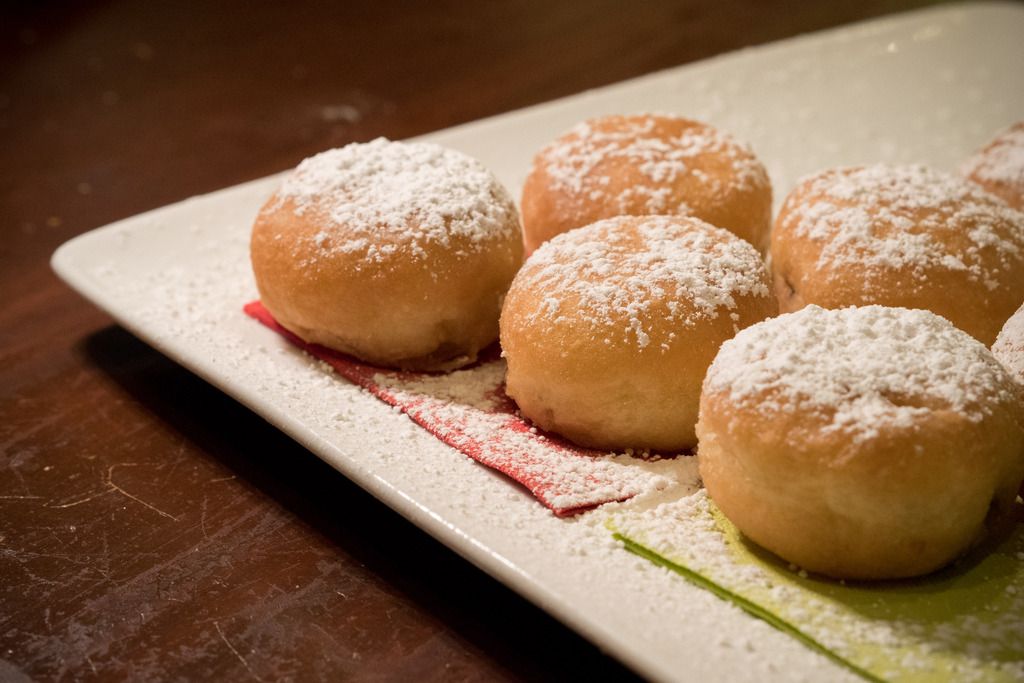 I'm sold, where do I go?
Brotzeit is easily accessible in all corners of Singapore with 5 outlets in 313 Somerset, Vivocity, Katong, Raffles City and Westgate.
For more details, please visit Brotzeit's website or follow them on Brotzeit Facebook Page or Instagram.
As the Germans say it, Prost (Cheers)!